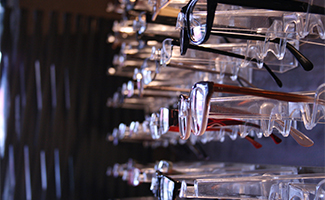 In the past, nickel was a very common material used in eyeglasses frames. As a metal, nickel has dissolvable qualities. What happens over time, is that the nickel used in eye wear begins to dissolve and causes some users to experience an allergic reaction. This day in age, nickel is used less frequently than in the past, however it is important that you keep an eye out for nickel frames when you are searching for glasses. Lucky for you, your uptown Minneapolis frame shop, Uptown Eye Swear, offers nickel-free frames so that you don't have to worry about being the next person to experience an allergic reaction to their glasses. Stop by our eye wear shop in uptown and let our fitting specialists find the perfect nickel-free frames and lenses for you!
Eye Wear Shop in Uptown Like Nothing Around
At Uptown Eye Swear, we do not purchase frames in bulk. Instead, we do our due diligence and research to bring in high quality eyewear that we believe will suit our customers well. Not sure what kind of frames you want? No need to worry as our dedicated opticians will spend the time to find out more about your needs and tastes in fashion. Our goal is to have you fitted with the best pair of nickel-free frames that you've ever had once you walk out of our doors. We offer a large variety of elegant, classy and reliable frames for our customers to choose from. No matter if you're are a male, female or a child, we've got plenty of hypoallergenic eyeglasses for you to choose from.
Hypoallergenic Eyeglasses Backed With an Iron-Clad Warranty
We understand that investing in eyewear is not cheap. If you purchase a pair of glasses at our office and decide you don't like them once you've gotten home, we will allow you to return them with no questions asked as long as they are undamaged. We'll then allow you to pick out a different pair of equal value that you prefer. For those individuals that are clumsy with their glasses, we offers a 1 year accidental damage coverage that will replace your broken glasses with a brand new pair at half of the price. Additionally, we offer free 1 year repair or replacement if any part of your nickel-free glasses are defective.
So, if you live in Minneapolis and are in search of hypoallergenic eyeglasses, look no further than Uptown Eye Swear! Offering a wide variety of nickel-free frames, you are sure to find a pair that you will fall in love with. Stop by our store in Uptown Minneapolis, or give us a call at (612) 216-4705 to learn more about our eyewear selection and how you can look good and see better.