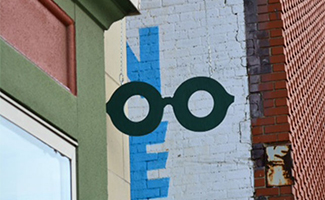 Uptown Eyeswear offers Uptown vision exams to anyone in the Minneapolis area looking for casual and professional vision services and a unique selection of eyeglasses.  As fashionable as the selection of eyeglasses frames at Uptown Eyeswear is, the best part of the experience is the courteous and enthusiastic staff who will help you choose the eyeglass frames that are perfect for you, even if you do not have insurance.  The staff of Uptown Eyeswear understands that vision insurance is not always right for everyone.  For many different reasons, people may not have vision insurance, but that does not mean that they do not need vision care.  Uptown Eyeswear staff will do all they can to help accommodate your personal and financial needs.
Uptown Eyeswear Vision Exams
Uptown Eyeswear's optometrist will give you an exam that accurately and expertly measures your vision prescription.  The result, once you have selected your new frames and lenses, will be clearer vision and possibly some new confidence in your appearance because of your new frames.  And remember, if you do not have vision insurance, Uptown Eyeswear should be your choice for your vision needs because of the staff's willingness to work with you and our commitment to making our frames, lenses, and other visual services affordable to all.
Eye Care for Families, Businesses or Just You!
The Uptown Eyeswear shop is always stocked with a huge assortment of the newest eyeglass frames on the market.  And there are frames for people of all ages, personalities, and styles.  But the right frame will not work if the eye-care that is provided does not guarantee that the lenses placed in the frames will be accurately measured and expertly set in the frames.  But you can be assured that your lenses will be exactly measured and your prescription properly filled.  Uptown Eyeswear will offer exams for small children, older children, parents, grandparents, aunts, uncles….the shop will serve any family member you wish to bring with you!
And remember — regardless of your insurance situation, Uptown Eyeswear will work with you to give you the vision satisfaction you are looking for.  If you do not have insurance for reasons of financial limitation, please do not let that determine whether or not you seek the vision care you need.  Uptown Eyeswear values your ocular health and believes you should have access to both healthy eyes and glasses to suit your style.
Uptown Eyeswear offers affordable options in the way of eye care services, all of which are designed to fit you, your company, your family, or just yourself!  Call (612) 216-4705 or stop by our optical shop in Uptown Minneapolis.