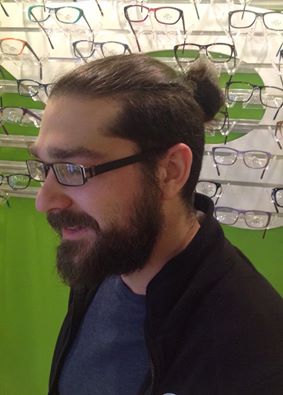 Uptown Eye Swear of Minneapolis, MN offers an enormously wide variety of men's glasses.  More than ever before, eyewear has become not only an acceptable form of self-expression, but an essential fashion statement for many people.  Uptown Eye Swear has a unique selection of professional frames and casual frames.  And you can be assured that your prescription lenses will be accurate and professionally crafted, thanks to our highly trained and qualified staff.
Men's Eye Wear Minneapolis MN
Men's Eye Wear is among the largest growing segments of the eyewear industry.  Uptown Eye Swear offers a great selection of eyeglass frames specifically designed for men.  The optic eyewear specialists at Uptown Eye Swear are committed to helping you find the best eyeglass frame match for you.  They will take into account your style preferences, the shape and size of your face, and the statement you want to make with your eyeglass frame choice.  So whether you want your eyeglass frame choice to communicate business-like professionalism, college intellectualism, casual cool, or any point in between, you are likely to find a frame or two that you will love. Once you have decided on a frame that suits your style, you will have the choice of several kinds of lenses.
Polycarbonate Lenses
This is an ideal choice of lenses for younger people, especially when placed in a frame that will be used in athletics.  Polycarbonate lenses are made of a softer type of plastic that is known for its durability, making it a great choice for sports and athletic activity, as well as work environments where added protection is a plus.  Polycarbonate lenses almost always arrive with UV protection and are scratch-resistant.
CR39 Plastic Lenses
Next to glass lenses, CR39 lenses are known for their exceptional clarity.  Most plastic lenses are now made of CR39 plastic.  It is a durable lens material, and is among the least expensive lens material.  These lenses are most suitable for prescriptions in the middle range of prescription strength.
Singleworks
Considered the latest in lens technology, Singleworks maximizes vision clarity in all viewing directions.  It is considered ideal for high plus and high minus prescriptions.
Transition and Photochromic Lenses
If you spend a lot of time moving between indoor and outdoor settings, Transition and Photochromic lenses may be the best choice for you.  The tint of these lenses change with your environment—when you walk outside into the sun, the lenses get darker, and when you walk back inside they lighten according to the light level in that space.
Anti-reflective Lenses
Both tinted and untinted lenses can be treated with anti-reflective coatings to make your visual experience more comfortable.
Uptown Eye Swear has great selection, great service, and a wide array of options for men looking for new frames. Visit our Minnesota optical shop or call (612) 216-4705 for more information about our comprehensive eyewear selection.